This short story I wrote for a short story contest on the
C19
boards. The object was to write a short continuation of either Northanger Abbey or Persuasion - either continuing from the book or from the recent TV adaptations. Although I didn't place at all I had a lot of fun writing this and making the deadline.
Northanger Abbey is my favorite Jane Austen novel and what happens to the characters in my short story are really what I imagine would have happened to them.
-------------------------------------------------------------------------------------
Catherine felt the first rays of bright sun on her pretty face, blinked sleepily and lazily stretched under her downy coverlet. From her bedroom Catherine could hear the mantle piece clock in the drawing room chime seven o'clock.
'Only seven?' she thought. 'But baby will be up soon and demanding breakfast. And there's so much to do today!'
Next to her, Catherine felt Henry's warm breath on her neck and she turned her head to view her husband. How handsome he looked even now, lying on his stomach with his brown hair rumbled, mouth slightly opened as he snored away merrily.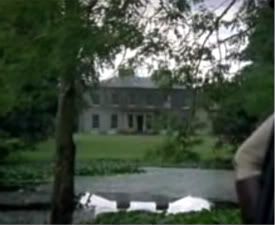 Five years to the day since their wedding. Catherine smiled as she remembered that blessed day, how her emotions were mingled giddiness and timidity. Questions and apprehensions had raced through her mind as she readied for the church. Then like a soothing balm, a letter from her bridegroom had come, comforted every qualm, and settled every nerve. His letters had been such a comfort over the months of their engagement, especially when it seemed that General Tilney would not give his consent to their marrying. That day he told her he loved her, he would always love her; he had chosen her above all others to be his own. Catherine remembered warmly the vows spoken that day as they stood up with her father officiating. How near forever the words "as long as you both shall live" had sounded to them then. These last few years living in Woodston had been sweet; her husband knew how to keep humor alive and lighten her mood when she seemed besieged by housework.
As if feeling his wife's gaze upon him, Henry Tilney stirred and warily opened his eyes against the sunshine that fell full upon his face.
"Is it morning already?" he asked and yawned deeply.
"It's just now seven," Catherine answered smiling sweetly.
"Seven o'clock? You know this and yet you're still smiling?" There was a touch of morning grumpiness in his voice. "How long have you been awake?"
"Only a few minutes; I've been laying here staring at my handsome husband and praying that Jemima won't call until after breakfast." She spoke of the nursemaid; Miss Jemima Hughes was well experienced much like a mother, coaching Catherine through everything.
It was his turn to smile now: "Little chance of that when her charge is so demanding."
"There's no need to wonder where he gets that quality from, he is your son!" she said playfully.
"A hearty appetite is one thing we Tilney men are known for, consider the General and Frederick."
"On that head I worry about our table's proficiency for tonight's dinner. But as far as the children, if they all have hearty appetites we might have to plant a larger garden!"
"Perhaps we should," Henry smiled. "But the Tilneys are also known for two other qualities that may be useful in aiding to supply their meals."
"And what are those?" Catherine asked curiously.
"Two very important thinks: good looks and charm."
"Very true, you see their effect on me! But I do hope each of our children grow up to be good, if only our daughters are as elegant as your sister and our sons as clever as their father I shall be happy."
"That doesn't matter so much. As long as our daughters have your ears, my love, they shall want for nothing!" He joked and tried to nibble one of Catherine's, but she was too quick for him and she giggled at his mocked pout as she bounced out of bed.
"Come - let's see if we can eat our breakfast before little Harry wants his. There's so much to do anyway before our guests arrive!"